Teaching Paint Your Heart and Soul 2018
Posted September 6, 2017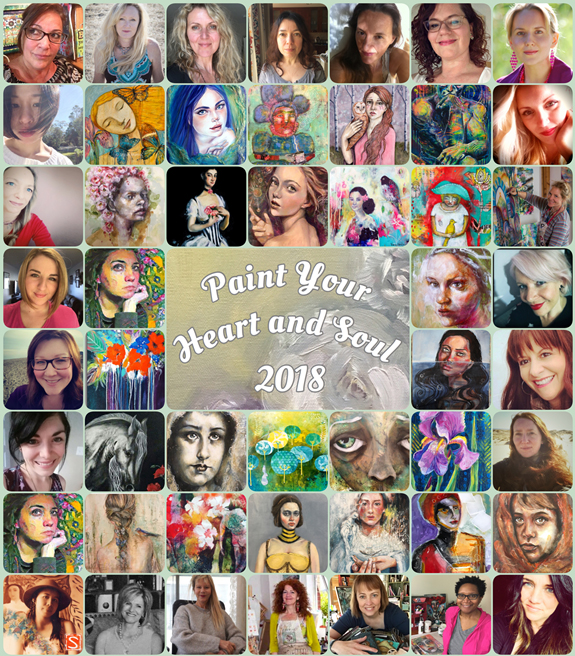 Hello, Art Lovers!
I'm excited to share that I'm going to be a part of an amazing year long course called "Paint Your Heart and Soul 2018."
This course is a collaboration with 24 out of this world artists and instructors, who paint gorgeous, soulful art using a unique variety of styles and techniques. There is 48 video lessons, each one is a full independent project, which will help you to learn and develop your own voice. We will share with you our knowledge, tips and tricks in order to create beautiful and soulful art.
This course is designed for individuals of all skill levels, ranging from a total beginner to an experienced artist!
In this course I'm going to teach two lessons:
1. Portrait with flowers in charcoal , watercolors and oils (yes all three) and 2. a simple still life focusing on values and lighting
Click HERE https://tinyurl.com/y8uwrb8r to find out more about PAINT YOUR HEART AND SOUL 2018.
This course is now open for registration, and if you register by December 1st, you can purchase the course at a DISCOUNTED PRICE! Don't miss this out!
And what's more is that I'm going to give one of you a FREE spot in the course!
GIVEAWAY
To enter the Giveaway, do the following:
Share this link (https://tinyurl.com/y8uwrb8r) on your Social Media (FB, Instagram, Pinterest)
Comment where you shared it, below.
Like my Facebook page https://www.facebook.com/Fractured-Angelics-Kate-Thompson-213204992183/?pnref=lhc
Like my Instagram account https://www.instagram.com/katethompsonartist/
Each time you shared on different social channel I will enter your name to the draw.
Each share counts as one entry – multiple entries are encouraged!
I will announce the lucky winner on (Oct. 9, 2107 on my blog site-
http://www.fracturedangelics.com/blog
If you've already paid for the course and win the spot, you will get a full refund!
I can't wait to create together!
» Share: