The Adornment Book ecourse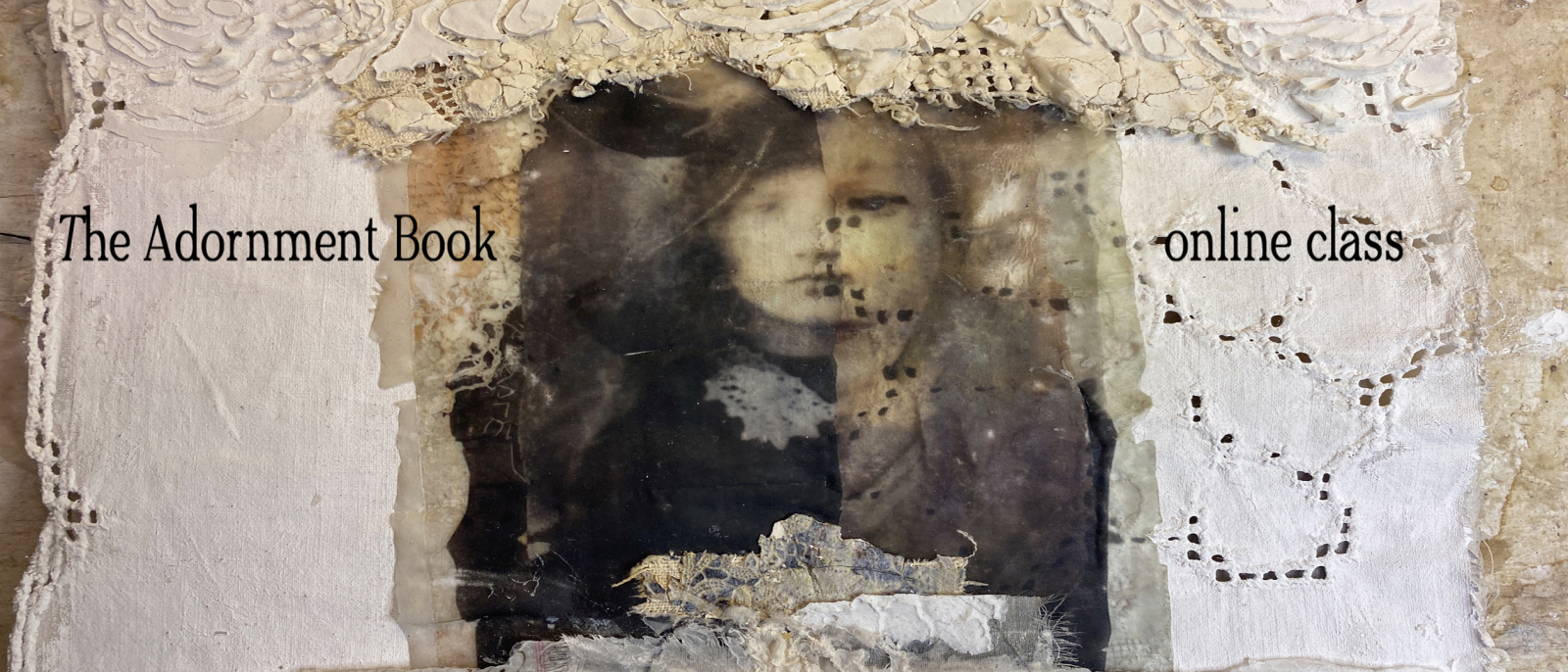 Hello and welcome to The Adornment Book class. I am so excited to offer you a kit to go with this class. It is the bones of the book but you will make it into your own work of art. I am always thinking about a new way to bind books and with inspiration from a friend, I came up with the rulers. I love collecting old rulers. I think they are so beautiful and wanted to find a way to incorporate them into my books. So I photographed some of my favorites and applied them to pieces of wood. I rusted some screws and wing nuts to age them and they were the perfect solution to making a unique book binding.
I present this class as a book class but we are actually creating 7 pieces of art that can stand alone. If you love a specific page and want to keep it separate from the book, display it using an old hanger and make another page for your book.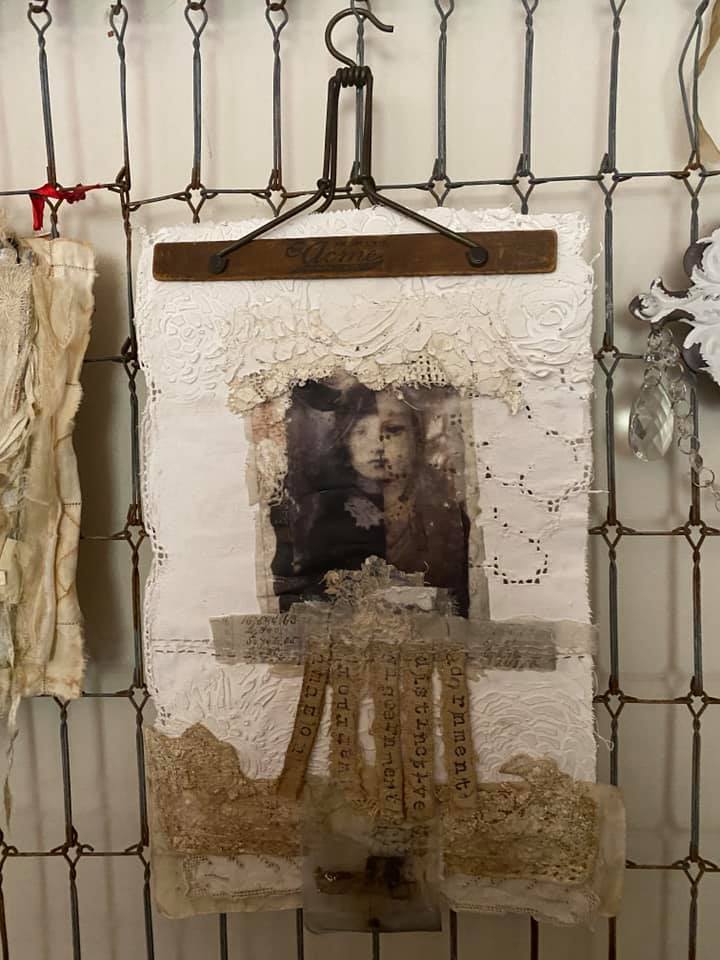 We will have a private Facebook page even though this will be a small class for now. I have limited spots till I make more kits! If you have any questions, each week I will ask you to list them in a thread and I will make a little video answering all of your questions.
Thanks so much for joining me as I endeaver on this new approach. I will also have more vintage and specialty items listed on my Etsy Store if you would like to check that out.
https://www.etsy.com/shop/fracturedangelicsart
Here is the supply list for this class :
Adornment Book –WHAT IS INCLUDED IN THE KIT
2 Wooden rulers, 3 rusted screws, 3 rusted wingnuts
4 pieces of muslin fabric, one lace page, on Battenburg lace page
Original art portrait printed on fabric, image transfer image, piece of tattered lace, vintage paper printed, vintage lace doily, piece of lace trim, resin paper, plastered stencil on silk organdy piece, glassine paper, awl
SUPPLY LIST FOR STUDENTS:
Even though I have enclosed 6 pieces of fabric for your book, you may want to add more. Such as:
Vintage fabrics, vintage laces, muslin. For the cover I used black heavy weight linen. (If you can't find black, dye with any type of fabric dye, Rit Dye will work just fine). Sheer fabrics such as silk organza.
PAINTS AND STAINS:
Plain old coffee to stain fabics
Ink pads-Black https://www.dickblick.com/products/ranger-archival-ink-pads-re-inkers/ and StazOn ink pads- color Ganache https://www.amazon.com/Tsukineko-StazOn-Midi-Ink-Ganache/dp/B00J172POW/ref=asc_df_B00J172POW/?tag=bingshoppinga-20&linkCode=df0&hvadid=&hvpos=&hvnetw=o&hvrand=&hvpone=&hvptwo=&hvqmt=e&hvdev=c&hvdvcmdl=&hvlocint=&hvlocphy=&hvtargid=pla-4583589101825266&psc=1 You can use this as well as espresso color. Basically you need a black and a brown ink pad
Watercolors- Yellow ochre (I use Daniel Smith Burgandy Yellow ochre but you can use any brand of watercolor in yellow ochre) and Daniel Smith undersea green https://www.dickblick.com/products/daniel-smith-extra-fine-watercolors/ or any type of grass green color
Acrylic inks – Raw Umber
BRUSHES- round watercolor brushes, 2" utility brushes, sponge brushes, Brushtix Imagine dome applicator (optional). I just use it to make dots but if you are interested these are fun https://www.imaginecrafts.com/brushstix/no-view/86
Joint compound and spatula- Lowes or Home Depot or any home improvement store
Gesso, clear gesso
Matte gel medium
Self leveling gel by Golden https://www.dickblick.com/products/golden-clear-leveling-gel/
Resin (I have enclosed a piece of resin paper in your kit but if you want to make your own here is a link)https://www.hobbylobby.com/Beads-Jewelry/Tools-Adhesive/Jewelry-Making-Tools/Amazing-Cast-Resin/p/80840131
Wire brusheds for distressing fabrics https://www.hobbylobby.com/search/?text=wire+brushes&quickview=21852
Ephemera—photograph your own artwork and make copies, collect old books. Here is a beautiful site that sells wonderful vintage ephemera and other items. https://monahanpapers.com/
Letter stamps- You can pick those up at Hobby Lobby or Michaels.
Embroidery floss and embroidery needles
Mr. Clean magic sponges- you can get these at any grocery store in the cleaning department
Charcoal pencil, Derwent XL Black charcoal block https://www.dickblick.com/products/derwent-xl-charcoal-blocks/ Graphgear 500 .3 pentel pencil https://www.dickblick.com/products/pentel-graph-gear-500-pencil/
Stencils- Stencil Girl Here is a link to mine https://www.stencilgirlproducts.com/stencils-kate-thompson-s/1936.htm Traci Bautista https://www.stencilgirlproducts.com/stencil-flower-bouquet-traci-bautista-p/l352.ht
Video 1-The Adornment Book-Introduction
Video 2- The Adornment Book-Going Over the Kit
Video 3- The Adornment Book-Plaster Fabric
Video 4-The Adornment Book-Photoblender Iphone App
Video 5-The Adornment Book-Making Ephemera part 1
Video 6-The Adornment Book-Making Ephemera part 2
Video 7-The Adornment Book-Resin Paper
Video 8-The Adornment Book-Image Transfers
Video 9- The Adornment Book- Borders part 1
Video 10-The Adornment Book-Borders part 2
Video 11-The Adornment Book-Word Borders
Video 12-The Adornment Book-Prepping Pages
Video 13-The Adornment Book-The Stitches
Video 14-The Adornment Book-Dress Cover part 1
Video 15-The Adornment Book-Dress Cover Part 2
Video 16- The Adornment Book- Banner with mending part 1
Video 17-The Adornment Book-Banner with mending part 2
Video 18-The Adornment Book-Halo Portrait
Video 19-The Adornment Book-Collage with cold wax
Video 20-The Adornment Book-Pockets
Video 21-The Adornment Book-Adding Cold wax
Video 22-The Adornment Book-Gesso Back pages
BONUS VIDEO= Little Bodices
The Pinterest Board for this class is here https://www.pinterest.com/kateart/the-adornment-book-ecourse/
If you would like to join the Facebook group here is the link https://www.facebook.com/groups/518007322430189